Social website Reddit has banned a controversial subreddit dedicated to "involuntarily celibate" men, known as incels.
The 41,000-strong community was ostensibly a support group for men who wanted to have sex, but found themselves unable to form romantic relationships.
Over time, the group became a repository of misogynistic abuse, rape threats and febrile discussion of "Chads" - men apparently not afflicted by incels' sexual insufficiency.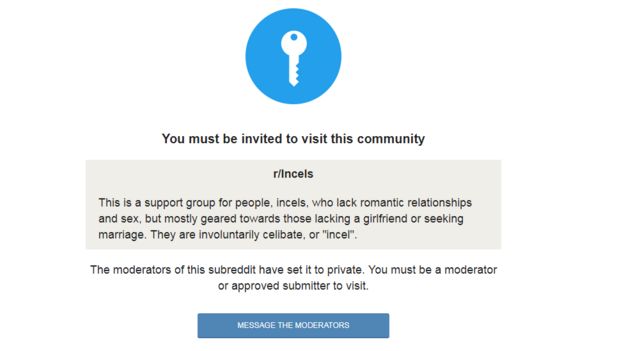 From Tuesday, users attempting to access the subreddit - a self-contained community on the Reddit website - were instead faced with a generic message announcing the ban.
"This community has been banned," the message states.
"This subreddit was banned due to a violation of our content policy, specifically, our site-wide rules regarding violent content."
In the past week, threads featuring on the subreddit have ranged from overtly misogynistic, to violent, to self-pitying.
"A reminder that no female has ever looked at you and thought you were attractive," proclaims one thread, a few lines above another declaring "women are horrible human beings in every aspect of life".
In October, one member of the incel group reportedly impersonated a woman to ask another subreddit dedicated to legal advice "how rapists get caught".
A member of r/incels pretended to be a woman to ask r/legal advice on how to get away with rape. This pit of misogyny needs to be shutdown! pic.twitter.com/b4unbFQNTV

— Fighting For Females (@FemalesFighting) November 8, 2017