Cameroon's most celebrated male actor Epule Jeffrey has been hospitalised, following a head injury sustained during a fight with fellow actor Lynno Lovert.
According to

ESAW Dilis Blog

breaking the news, stars had all gone out to celebrate comedian 'O Boy da Comic's ' birthday in Buea, South West region,Cameroon.
On their way back home early Sunday 19 November, Lynno started castigating awards in Cameroon claiming they were good for nothing and not based on merit.
Jeff' took offense and asked Lynno to support the growing trend instead of hating them and the organizers. He further said if Lynno isn't satisfied, he should organize his.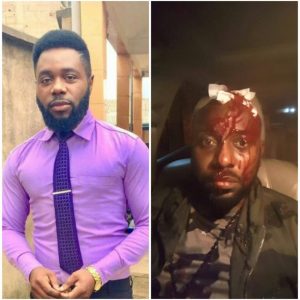 Lynno got angry at what Jeff said, and replied that 'Jeff is in support of the organizers because he has won some awards.' Jeff gave it back immediately, that he (Lynno) has not won any, because he hasn't really acted.
Somewhere in the heat of the argument, Lynno could not gather himself and take on with the verbal fight, so he asked the driver to stop the car for him to jump down, which was respected.
After jumping out of the car, Jeff followed him to probably find out why he decided to drop out at that time. One thing let to another, and the duo used their fists on each other, resulting to bloodshed, that landed Jeff in the hospital.