We recently reported that Camtel suspended the supply of Fiber Optic transmission services to Orange, due to a 1.6 Billion F CFA debts. The battle is far from being over, as Orange is accusing Camtel of using its monopoly to suppress them.
Despite assurance from Orange to its subscribers that the problem was in-house, Camtel took the issue public, accusing Orange of lying to its subscribers that they had internal network issues during that week end, and that the network outages they are having, is due to the fact that they (Orange) are refusing to comply with operational norms, especially their refusal to pay the above mentioned debt.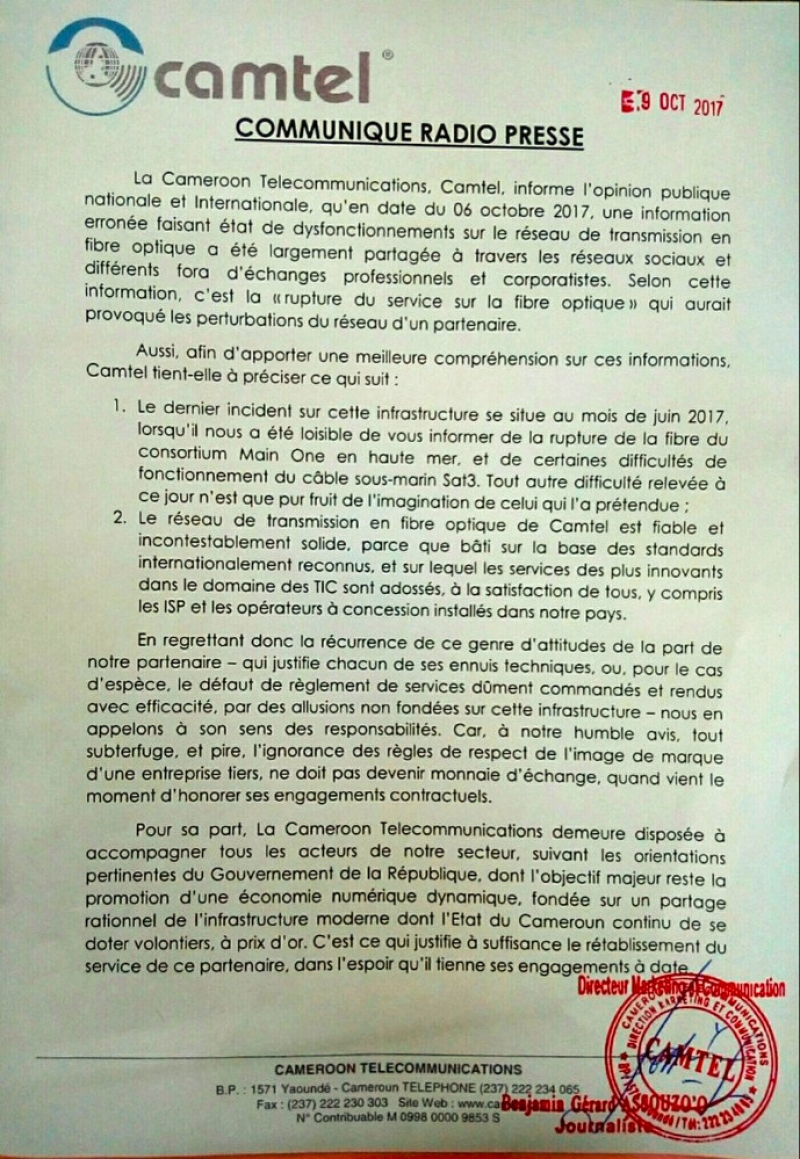 Orange Public disgrace from Camtel
Since 7 a.m today Oct. 17, Orange subscribers have been having hell, accessing Orange services especially calls, and sources in high places say Camtel has vowed not to let Orange use their services again until they settle every dim they owe them.
Orange on its part through its Director of public relations Samuel Ngondi in a clarification note, told the Cameroonian public that 'Camtel is using its stronghold, to suppress them', which is unacceptable, even though the overall Telecommunication boss the Telecommunication Regulatory Agency, have arbitrated the matter, and ordered Camtel to reestablish the links.
ART's letter to Camtel, askng the to reconnect Orange to their Fiber Optic transmission services
According to the note, Mr. Ngondi said Orange has fulfilled all its obligations in the contract for the supply of fiber optic transmission links, between them and Camtel, and that they have started paying the said debt, whose payment period extends to December 2017.