While Tonto Dikeh is picking up the pieces of her life to forge ahead after her shattered marriage, no week passes by without vilifying tales trending about her on Social Media.
The Nollywood screen goddess who recently stepped out in style with son King, had not finished savouring all the lovely comments on her and her lovely boy, when another bomb blasted again on her.
Tonto Dikeh and son King Andre Churchill
This time, from her erstwhile friend Ada Slim, who allegedly sprung Tonto to stardom. In the new explosive, Ada who is on exile in the US, claim that Tonto Dikeh is indebted to her, and when she(Ada) needed help, Tonto was no where to be found.
Slim said the actress borrowed the first car she ever owned from her, claiming that the car, clothes and all other things she borrowed were never returned.
She said she believed in Dikeh "even when you had doubts", adding that "My dream was to make your dream come true".
Asides accusing Dikeh of failing to return items loaned to her, she claimed that the actress made her go bankrupt through a film project.
"I quit because of the pains and loss you caused me (N2m loss in one film). I went bankrupt, you never even looked out for me for the 5yrs I was in exile in New York. 10 years later… here we are."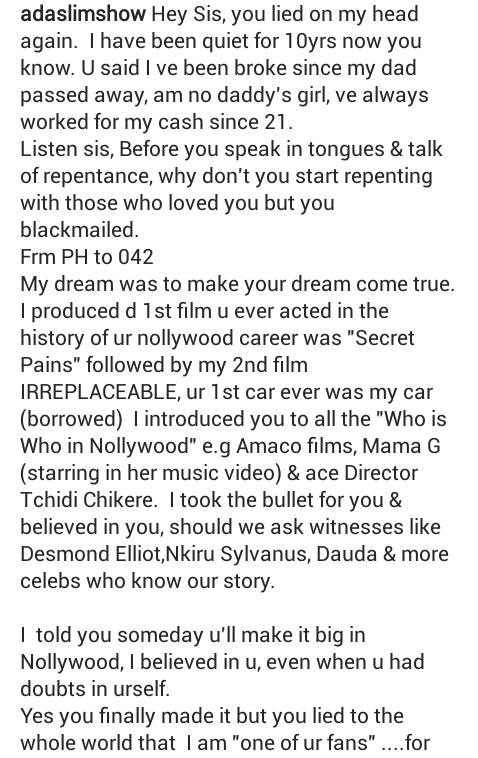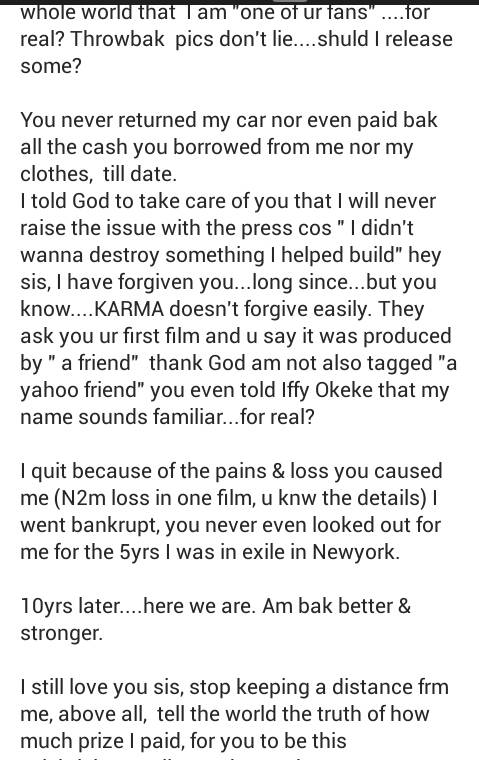 In response to her post, Tonto claimed not to be aware of any allegations, saying she does not recall borrowing anything from Ada Slim.
She, however, asked Ada to send her the bill if truly she says she owes her.
"I got your message, and I am here to tell you that you have been played. I have and will never talk about you negatively.
"I can't remember having your car in my possession nor owing you or having your clothes with me, but if I truly do, please big sis send me the bill.
"God has blessed me now and I am super grateful, you were Gods sent to me 10yrs back, and today I can only thank you for letting God use you on my journey.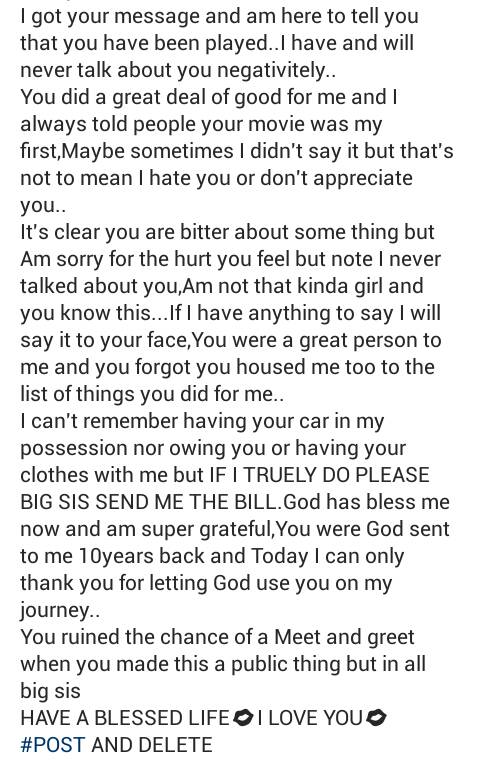 After reading her reply, Ada Skim took to her
Instagram page
this morning to share the photo below: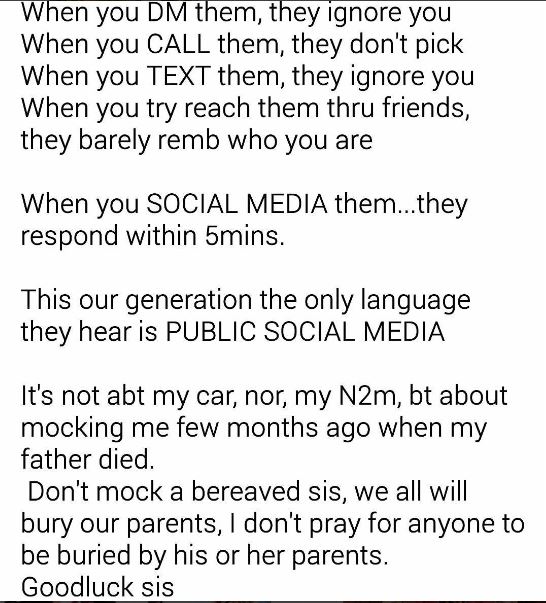 The duo have since deleted their posts from their respective Instagram pages