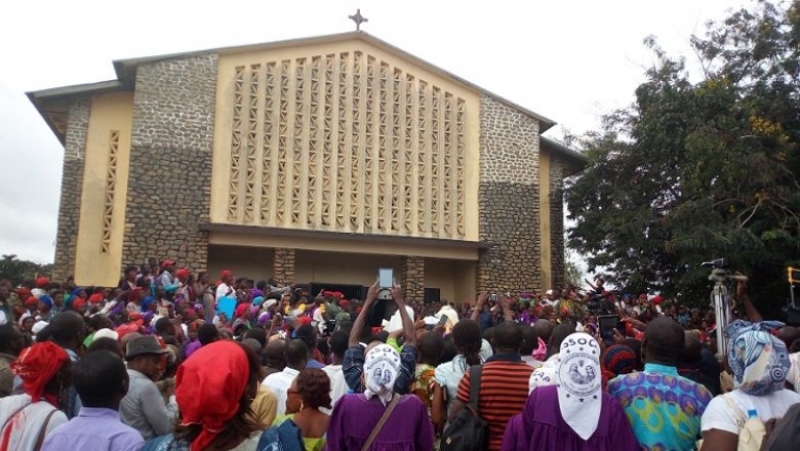 Bafia Cathedral, during Bishop Bala's funeral last August 3, 2017
We reported yesterday how the people of Bafia woke up with sight of blood sprinkled all over murdered Bishop Jean Marie Benoit Bala's grave, through the pathway of the Cathedral, right inside the church, all over his chair and on the table where the Bible is kept. Law Enforcement Officers carried some of the blood soil to Yaounde, where elements of the Judicial Police came visiting to confirm the story.
According to Judicial and Religious Authorities, the Saint Sebastien Cathedral in Bafia has been 'descecrated', and must remained SEALED till it is PURIFIED physically and spiritually again.
Masses will no longer be said there till further notice.
According to laws of the Catholic Church, the Cathedral can only be reopened through a decision from the Pope, who can decide to appoint a Bishop to do it on his behalf.
The Bishop of Bafia His Lordship Jean Marie Bala Benoit disappeared on the night of 30th breaking 31st of May 2017, His white Prado jeep was found parked along the Ebebda bridge, with a suicide note 'I am inside the water', raising controversial debates on whether he personally jumped into the water to die, or was compelled to do so.
His lifeless body was discovered 72 hours later by a Malian fisherman, along the banks of the River Sanaga in Ntsang village in Monatele.
The National Episcopal Conference published a release, in which they insisted that their colleague did not commit suicide, but rather, he was 'brutally assassinated'.

On July 4, the State Prosecutor of the Mfoundi High Court also published a release, saying a team of Interpol Doctors have carried out a thorough check on the Bishop's body, and 'found no traces of violence', concluding that the Prelate might have 'drowned himself to death'.
The church held it grounds contradicting the state, but finally recieved the body of the assassinated bishop, and buried him on August 3, 2017.