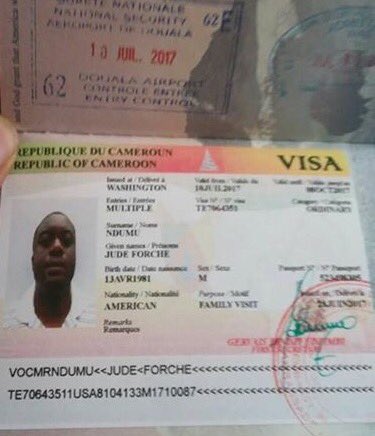 Cameroon Government Repatriates Another Anglophone From The Diaspora Upon His Arrival At The Douala International Airport From The US
The Cameroon government is at it again on the anglophones, as it is refusing those residing abroad to enter the country. Sources say government is afraid that those in the diaspora are planning a coup to destabilize the country, reason Biya and his government are repatriating them upon arrival at the Airports.
The case of Ndumu Jude Forche, whose passport is above, is not the first anglophone to be repatriated upon arrival at the Douala of Yaounde Nsimalene International airports, since the start of the anglophone crisis last year.
But the truth is, denying them entry into their own mother's land does not solve the age long problem of anglophone marginalization. It only helps to make matters worse.
We are just afraid of what will happen, when all those rejected gather as a force to make a forceful come back.