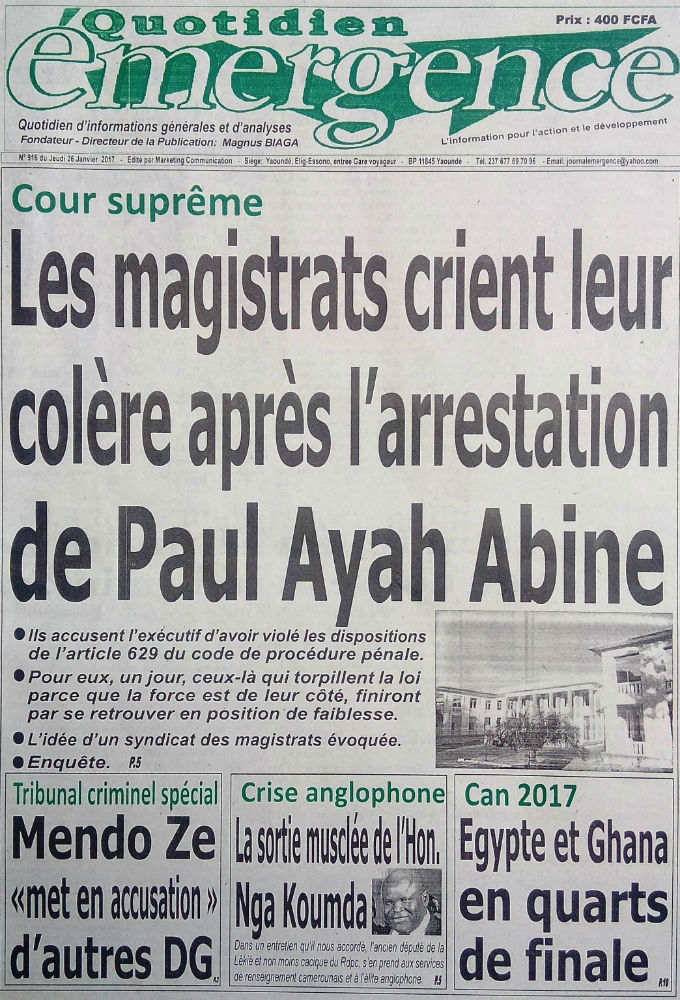 The
Arrest and detention
of Supreme Court Judge Justice Ayah Paul Abine by the Cameroun government has sparked a wave of uncertainty among his colleagues who thinks Government is not respecting the the Cameroon Law.
Reporting on the story, the 'Quotidien Emergence' newspaper in its yesterday January 26th edition said Magistrates are not hiding their disappointment in government concerning Justice Ayah's arrest.
"I am dumbfounded. This arrest is a violation of article 629 of the Penal Code Procedure" an Adviser of the Supreme Court declared. The legal provisions the Adviser is talking about above stipulates that "If a magistrate of the judicial order is to be charged for a crime, the competent State Counsel General(Procureur General) will present a motion to the President of the Supreme Court, who will assign a magistrate in charge of investigating the case, and the three of them including, having at least the same grade as the accused, will seat for a preliminary trial or hearing of the matter".
Justice Ayah Paul Abine was arrested last Saturday January 21st 2017 at his resident by six armed men, and was taken to the Secretary of State for Defense(SED), where he is being detained. Politician and President of the Cameroon's People Party, Magistrates of the Supreme Court say this twist in Justice Ayah's life cannot justify the way he was arrested.
"He was arrested because he expressed his opinion. But when he was being nominated at the Supreme Court, they knew who he was(politician of the opposition). They knew what his political ideas where, something he has never hidden(Justice Ayah was an MP of the ruling CPDM Party, before he resifned to form his own party). Why then pretend today at his political struggle?". An angry Magistrate asked.
To the Magistrates, the arrest of Justice Ayah Paul Abine proves that no one is safe, as they await the reaction of the bosses of the Supreme Court.