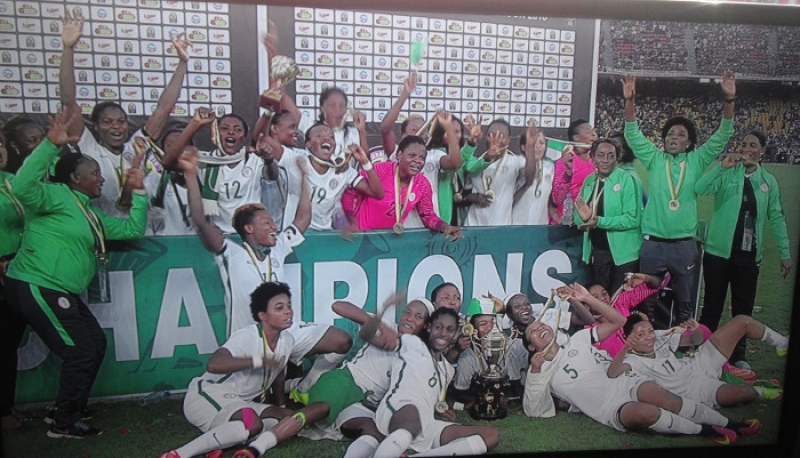 African Champions Nigeria
Today 3rd December 2016, the Super Falcons of Nigeria disgraces the Indomitable Lionesses of Cameroon in front of President Paul Biya, First lady Chantal Biya and toppest Cameroonian officials, to return with the Cup to Nigeria.
Supporters of the Indomitable Lionesses, were all around their Head of State Paul Biya and wife Chantal, dressed in the National colour as the number FAN of Enow Ngachu's girls.
At the start of the match, Cameroon was all dominating, missing scoring opportunities. As excitement reached climax with the 'velo girl Aboudi Onguene and queen shooter Gael Enganamouit' wasting their opportunities, the more than 5 thousand live spectators and millions of virtual spectators were waiting for that minute when the ultimate goal was to come in favour of the Lionesses, but the gods of the Cameroonian football had deserted the Amadou Ahidjo stadium, maybe because of President Biya's presence.
Against the expectation of all especially with the brilliant and colourful performance of the green, red, yellow girls, a little distraction from the defense, gave Nigeria the chance through Oparanozie at the 84th minutes, to score infront of Paul Biya and his cabinet members, visibly bringing hot sweat from their inside, to crown their disappointment.
As it was in 2014 in Namibia so it is in Cameroon in 2016. The Super Falcon of Nigeria returns with the trophy for the eight time, as the Presidential couples helpless watch with red eyes of tears.