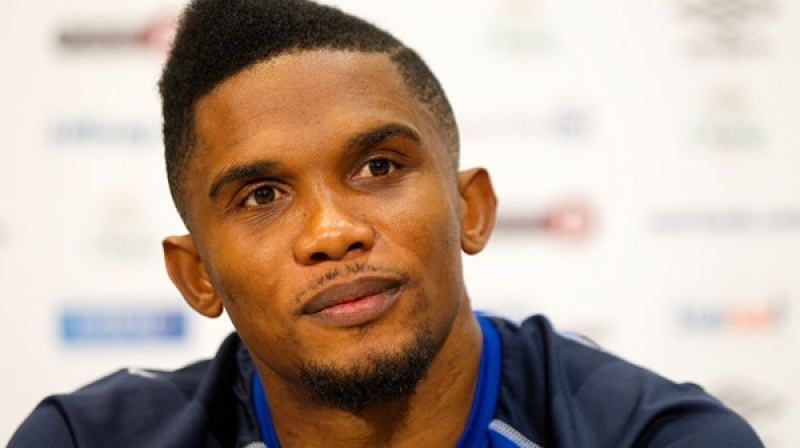 Samuel Eto'o Fils
Cameroon's International Striker Samuel Eto'o sent words of encouragement to the Indomitable Lionesses ahead of today's Finals of the 2016 African Women Nations Cup, in which he tells his football success story.
"Samuel Eto'o Fils or the boy who always dreams about the welfare of his country", was the last phrase in the message that Pichichi Samuel Eto'o Fils addressed to the Indomitable Lionesses. Samuel who

received a standing ovation

during the opening ceremony of the AFWCON preferred to encourage the girls in a three part message of a true big brother.
In the first part of the message to the Lionesses titled ' everything begins with a dream', Samuel Eto'o talks about the start of his career in the National Team. He talks of his first opportunity. "Some years ago, I came into this beautiful team of Cameroon, unknown by others and known by others. I was happy to have been called by the coach for the African Cup of Nations in 2000. I still remember having cramps in my stomach before the opening match against Ghana. I was singing the National anthem with millions of Cameroonians in heart. This little boy from the poor neighborhood of Douala knew he was going to write a beautiful history, but he needed just to be on the pitch. And this opportunity came, when coach Manga-Onguene asked Coach Lechantre to send me into the field".
In the second part of the message entitled "eyes focused on objectives". Eto'o said he did not lose focus despite the match. "We won, we were happy, without jealousy, nor promises of certain officials of our seniors, who were to be coaches of the team at the end of their career. We were just there to give our nation the position it deserved, No 1 in Africa".
In the concluding phase of his message that the striker titled 'For the love of Cameroon', he cited the names of the Lionesses, the coach, calling them 'our champions'. "I once more thank the presidential couple who permitted me to assist in the inauguration of the AFWCON and your first first match. I shouted like I have never shouted before! I equally thank them for inviting me to the finals of this competition. Unfortunately, I cannot be physically present to shout and encourage you, but my heart and my most deepest thoughts will be with you. Know that happiness that you have given us till now is priceless".