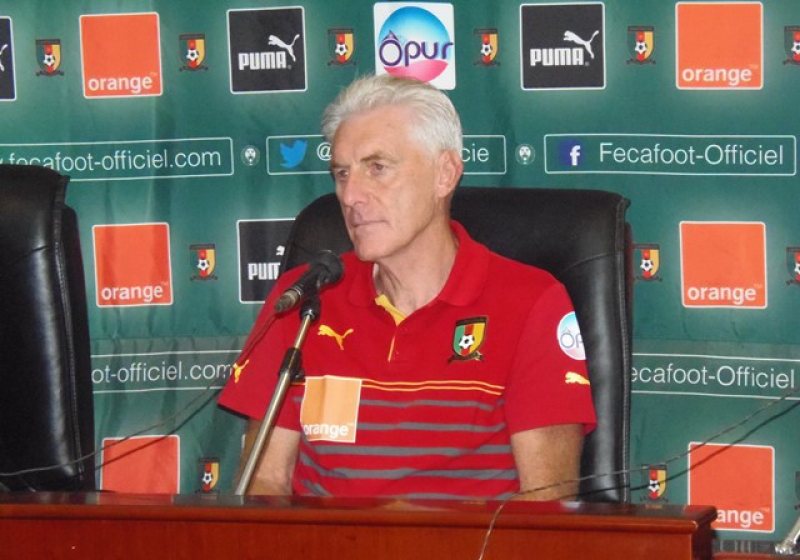 Cameroon's Head Coach Hugo Broos
Before engaging in series of friendly matches in view of the final phase of the 2017 Gabon African Cup of Nations to kick off from January 14 - February 5 2017, Cameroon's Head Coach Hugo Broos is consolidating a list of players who will fly the Cameroon's colour in Gabon come 2017.
While waiting to chose from Cameroonian footballers abroad, Hugo Broos has decided to give home based players the golden opportunity to enter the Lion's den, for the upcoming AFCON 2017.
Twelve players from clubs of League 1, League 2, and regional D2 have been called for a fifteen days training. The technical staff of the Indomitable Lions indicates that this consolidation will be opened to professional home based players.
See the list of called up players below...
Younou Casimir (Ums de Loum)
Pouaty Moise (Union de Douala)
Ngoula Patrick (Astres de Douala)
Otia Paul (Botafogo de Douala)
Olivier Mbaizo (Union de Douala)
Alima Atangana Eric Bertand (Canon de Yaoundé)
Moundi Alim (Aigle de Dschang)
Ekollo Malolo (Dragon de Yaoundé)
Nlend Samuel (Union de Douala)
Pangop Tchidjui Franz (Union de Douala)
Eyock Emile (Avion du Nkam)