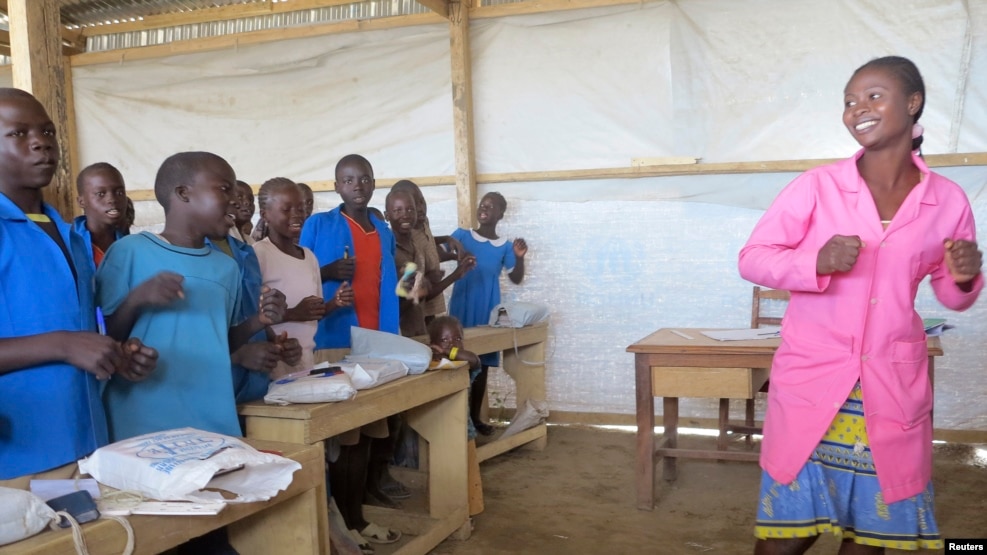 Teacher Teneng Sidonie Weteck sings and dances in class at a school for displaced Nigerian children at the Minawao camp, northern Cameroon, February 18, 2015
The Francophone Union joins their voices to the already echoed anglophones to call for a nation wide teachers strike.
Jean Pierre Ateba of SNIEB, Kouanang of SNUIPEN, Thobie Emmanuel Mbassi of FECASE, Roger Kaffo Fokou of SNAES, Maurice Angel Phouet Foe of SNAEF and Michel Serge Tamo of ONEEPS, members of the Francophone Teachers Union have called on their colleagues to join in a nation wide strike action from Monday December 5 - Wednesday December 7 2016.
The decison of this strike came during one of their recent meetings, with threats of a more serious strike to hold in January 2017, if government doesn't bow to their requests.
In a warning letter sent to Prime Minister Yang on November 17 2016, the Francophone Teachers Union threatened to call on all teachers to drop their chalks for the streets. The teachers are frowning with what they say is craftiness on the part of the Prime Minister, who held an 'ad hoc committee for the revendication of anglophone teachers', where as in 2012, a similar committee was created with seven members of government and seven representatives of the Teachers Union.
They are also asking the PM to immediately implement the resolutions taken during the 2012 meeting. Among other issues, the teachers are complaining about the integration of the Physical and Sports Education Teachers to the particular status of the National Education body, salary grade review, integration of part time teachers into the system and the revalorization of documentation and research allowances.