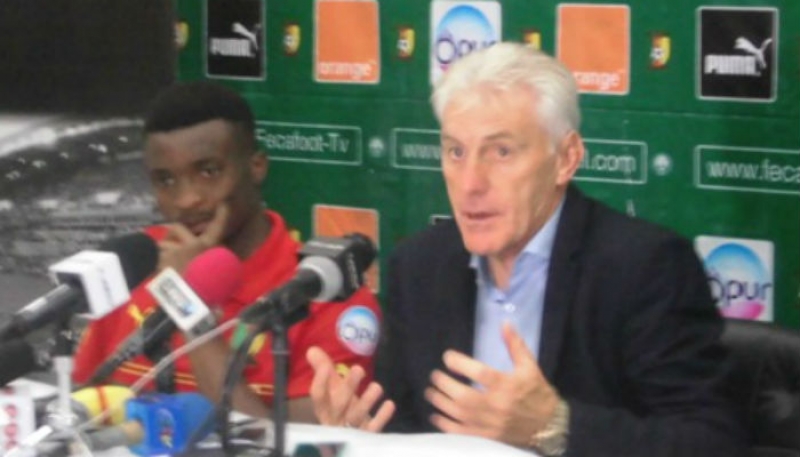 Hugo Bross during the Press Conference
Cameroon's Head Coach Hugo Broos yesterday in a press conference where he published a

list of the 23 players

to face Zambia on November 12, also confirmed he has chosen Benjamin Moukandjo to replace Stephane Mbia as Captain of the Indomitable Lions.
"I have made my choices. Why, who and how, I won't tell you" Broos answered a journalist, who questioned him minutes after he confirmed that Benjamin Moukandjo was the new Team Captain.
"Many players were absent during the match against Gambia and Gabon. I had to chose Benjamin Moukandjo as Captain, and it was a huge success, because Moukandjo is an intelligent guy. He is a Leader, he knows how to talk, and I was pleasantly surprised at his qualities" Broos explained.
Hugo Broos's choice on Moukandjo, did not go unnoticed during the preparatory match against Algeria, especially with Vincent Aboubakar and Choupo Moting, who where Assistant Captains of Captain Stephane Mbia present on the pitch.
"Normally, Choupo Moting and Aboubakar Vincent where to Captain the match against Algeria, but when I made the choice, I spoke to Aboubakar and asked if he was ok if I appointed Moukandjo Captain of the match, and Aboubakar said he had no problem with that. So Moukandjo remains Captain". The Coach clarified.
With all these explanations. Head Coach Hugo Boos, permanently answered the question that was on every lip and mind. So it is confirmed. Benjamin Moukandjo is the New Captain for the Indomitable Lions..