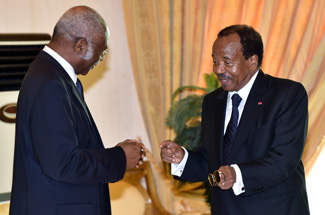 Let's hope for hope
According to reports from

Boris Bertolt

's

Facebook page Prime Minister Philemon Yang was at the Etoudi Office of his Boss H.E. President Paul Biya, for an extra-ordinary close door meeting this afternoon.
So far, no detail has escaped from the sound protected room concerning the raison d'etre of this meeting.
Speculations however holds that both men can only discuss the boiling Anglophone Lawyers Strike, and the upcoming Anglophone Teachers' strike.
Meanwhile, guests have started flying into the country ahead of next week end's opening of the AFWCON, and it will best if both the lawyers and the State can come to terms with their disagreement, so that our country's image will be respected amidst the thousands of visitors already in the country.
We keep our fingers cross, while hoping, for hope is our only consolation for now.
#JusticeForAnglophoneCameroon
#CameroonLawyersMarch