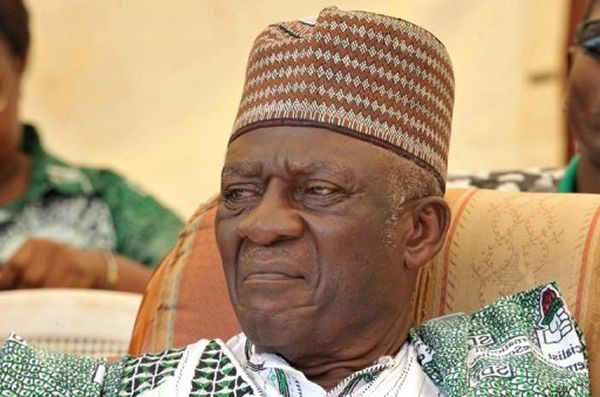 Ni John Fru Ndi - Chairman of SDF
Cameroon's main opposition party leader Ni John Fru has reacted to his alleged corrupt person allegations by one of ex-militant. Last Sat Nov. 5 2016, the Social Democratic Front(SDF) met in Bamenda for their National Executive Committee meeting.
During the meeting, some decisions where made, among which was that of the suspension of Abel Elimby Lobe, Assistant National Communication Secretary of the party.
24 hours after the suspension Elimby resigned from the party, and was invited to talk about his decision on STV's 7 hedbo program of Sunday November 6 2016.
Ever since his resignation, Elimby has not stopped talking to the media(what he knows to do best) sabotaging the party and its chairman, accusing him of being corrupt.
"The first sickness of this party today is corruption, which has made the organization incapable of respecting its own rules and regulations." One among his many responses to the press regarding his resignation.
However, "Le Jour Newspaper" of this day Nov. 8 says the Party's Chairman Ni John Fru Ndi has reacted to his ex-militant's allegations, calling on him to 'cultivate the spirit of fair-play'. "Its unfortunate that I did not follow his interview directly. Journalists know why he is acting like this for some months now. We have been waiting for his resignation. He spent most of his time insulting officials of my political family. Even I was personally insulted by this man". Ni John regretted.
"I wish him the best in his future political career. He is talking of corruption and abuse of authority. Many years ago I sent emissaries to reorganize the organs of this party in the Littoral. There were still obstacles. I think he should cultivate the spirit of fair play and respect the statutes of the party. He is talking of corruption which till now, I am not aware of any. He alone knows who is corrupt, and its a pity". The Chairman declared.
Ni John says he trusts the team he mandated to conduct the elections in the Littoral Region. "In which capacity is he talking? SDF is the only party that organises regular meetings through its National Executive Committee(NEC). All those who have issues, pass through this organs" The Chairman concluded.
Elimby refused to concede defeat, after he blabbed on the media that he was to replace Hon. Jean Michel Nitcheu. It's a pity to see how immature our politicians can be.