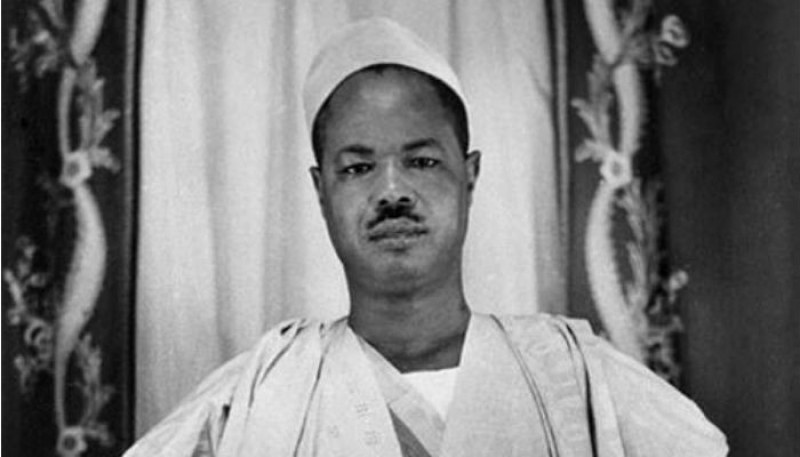 Late President Amadou Ahidjo of Cameroon who died in exile and his corpse was never allowed to return to his Fatherland
The ever first President of the Republic of Cameroon who was elected in May 1960, got up in the morning of November 4th 1982 to shock Cameroonians with the news of his resignation.
He withdrew from power at the age of 58, and handed over Cameroon to Paul Biya, because he said he had issues with his health, and could not rule Cameroon with his ill health.
It is 34 years, since he handed over Cameroon to President Paul Biya. 34 years of regrets, 34 years of misery, 34 years of bad roads, 34 years of high insecurity, 34 years of continuous oppression, 34 years of tribalism, 34 years of nepotism, 34 years of high unemployment rate, 34 wasted years. Companies have closed their doors, State Corporations have been sold to foreigners who decide what happens in our own Fatherland, and Cameroon is ruled by people of one language.
Late President Amadou Ahidjo's resignation blunder is affecting Cameroonians today. Why can his successor not handover peacefully as well?. Why will he want to be forced out of powers?.
We shall overcome some day, and that day is nearer than we think.
Below is the late President Ahidjo's resignation speech
Cameroonians, Cameroonians, my fellow country men,
I have decided to resign from my functions as Presdident of the Republic of Cameroon.
This decision will be effective from Nov. 6, 1982 at 10 a.m. From the depth of my heart, I want to use the special circumstance to thank all those who for close to 25 years gave me their trust and support in the accomplishment of my heavy duties as the head of the State.
I want to particularly thank the militants of our great national party CNU(Cameroon National Union) for their relentless and constant support.
If there are still many things to be done in the great long construction of our beloved beautiful country, we shall all accomplish it after the independence, the Reunification, the Unification and the progress in all domains.
Our country has special important strengths. Consolidated National Unity, numerous different complimentary resources, a continuous expanding economy, sound and healthy finances, an ameliorating social justice, a hardworking population with dynamic youths, solid, fruitful and healthy relationships, and cooperation in Africa and the world.

I call on all Cameroonians to give their entire support and confidence to my constitutional successor Mr. Paul Biya. He deserves everyone's trust both internally and externally. I implore you to remain united, patriotic, hardworking, respectful and trust worthy.

I pray that the Almighty God will continue to grant protection to the Cameroonina people, and give them the necessary assistance for their peaceful development, unity and justice. Long live Cameroon.

4th November 1982
His Excellency Amadou Babatoura Ahidjo
President of the Republic of Cameroon