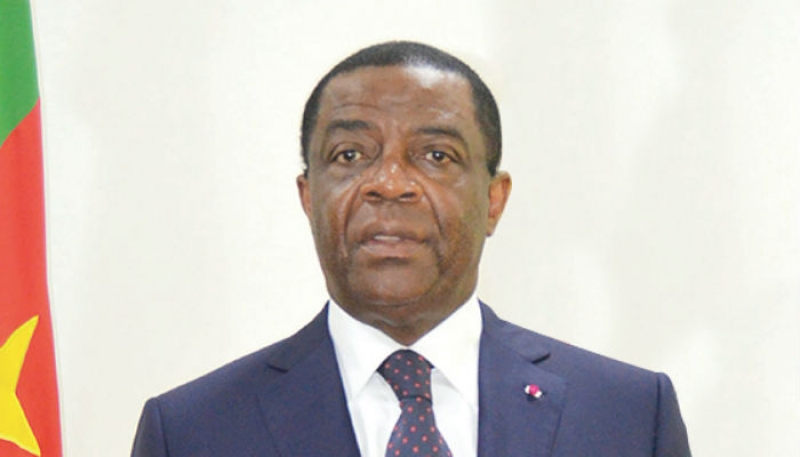 Minister Edgar Alain Mebe Ngo'o
Lieutenant Colonel Ghislain Joel Mboutou Ele, a Military Diplomatic officer at the Cameroon Embassy in Morocco and Mauritania, and who is also said to be Minister Edgar Alain Mebe Ngo's personal person was arrested with an inexplicably huge sum of money in his possession.
Lieutenant Ghislain Joel is being accused of abuse of social properties. attempted bribery and corruption of civil servants at the judicial police, aggravated and repeated money laundering.
"French Newspaper
Le Courier
" of November 3 reporting on the issue says the high graded military officer is being tried by the High Criminal Court of Nanterre in France.
Lieutenant Colonel Ghislain Joel Mboutou Ele, was arrested by the French
internal
secret information service, when he was about to finalise a housing transaction in the French capital city of Paris.
The paper reported that the Lieutenant baoarded a flight from Morocco, and landed at the Aeroport Roissy Charles de Gaule on Oct. 4 2016. Upon arrival, he was identified with his diplomatic passport during body and luggage check, and the scanner detected that he was transporting a suspicious luggage.
With his diplomatic passport, the French officials did not want to embarrass him at the airport, so they informed the secret information service officers who were at the airport, and these men began trailing the car that was transporting the Lieutenant from the airport to his hotel.
They followed him discretely, as his driver drove towards the luxurious Hotel Georges V, not far from Champs Elysees in the French Capital city of Paris. He went into the hotel, came out minutes later, and started heading towards the House Agent Company Mag Force International, under the watchful eyes of the policemen who were behind him unknown to him.
He got to the agent who was to sell him a house, and was about to finalise the deal, when the men of the French Secret service walked up to him and surrendered him at gunpoint.
At the spot, he had 45 million F CFA, and when he was taken to his luxurious Hotel Georges V, the French Military men discovered another 1 300 000 000 F CFA(One Billion, Three Hundred Million Francs) in a brief case, with other confidential documents.
All the documents were confiscated by the secret police service, and are being used for investigation.
He was taken to the French Judicial police for interrogations by the judicial police and an Investigating Judge of the Criminal High Court for money laundering.
The paper finally reported that during his auditioning, his phone kept ringing, and the number was an MTN Cameroon number that is said to be rthat of the Minister of Transport Edgar Alain Mebe Ngo'o, who was the former Minister Delegate at the Presidency In-charge of Defense.
The Lieutenant was released on bail with a caution, and has been put under judicial investigation.