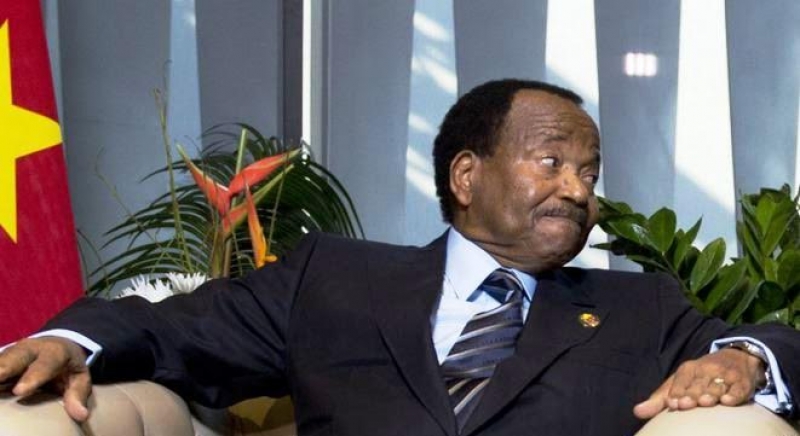 "The Intimacy of Biya" is the hot title in 'Jeune Afrique's magazine' on kiosk since yesterday Nov. 7th, that takes us into the everyday life of President Biya, as a Lion, a President, a Boss, a husband, a father, a friend, an enemy and above all, a staunch praying christian.
In the opening paragraph, the Editor in Chief
Francois Soudain
says "
I present Paul Biya as a man who is secret, lonely, at times omniabsent and omnipresent, despairing of inactivity, but in reality constantly awake, dodging the media like people dodge Ebola. He is brilliant and charming in private, is an autopilot and manages the government even from afar, but never also delegates powers
".
According to declarations from a source that has worked for a long time at the Presidential Palace of Etoudi, Paul Biya(Popol) gets up very early. "He listens to the radio especially RFI(France International Radio), before rushing to the gym or do some diving in the swimming pool at the Presidential Palace".
The editor reveals that; "His breakfast is dominated by yaourts and much water. He drinks imported 'Evian' brand water and not the locally made Tangui, Supermont or any other made in Cameroon water".
"While having his breakfast,
Rear Admiral
Joseph Fouda his Special Adviser is opening his office on the third floor, 400 m from his dining room". With Popol, job title has nothing to do with the job function. A
pparently he has no faith in his aide Lieutenant Jean Noah, reason why it is Joseph Fouda who prepares files and contacts for visitors who are awaiting audiences with the Head of State, to book the appointment time.
How well do you know your Head of State? Wait until we bring you more discoveries from his inside world subsequently.