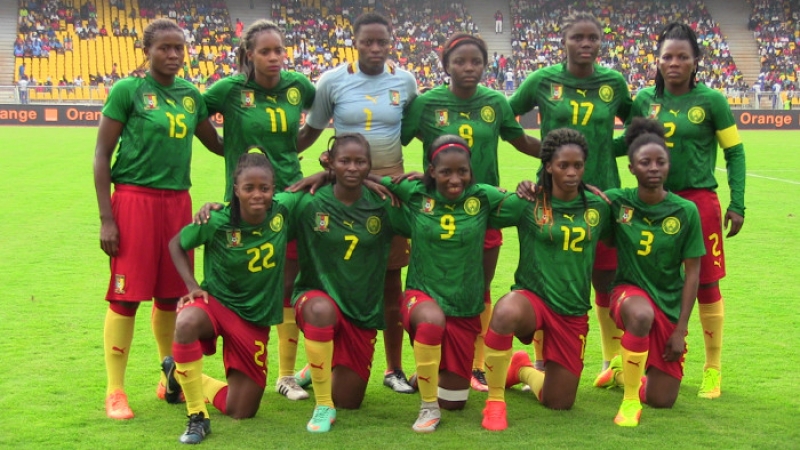 The Indomitable Lionesses of Cameroon
The issue of allowances has been settled. The indomitable Lionesses and their Coaches already know the content of their individual envelops before, during and after the upcoming 10th Edition of the African Women Cup of Nations set to kick off in Yaounde from Nov 19th - Dec. 3 this year.
The information was disclosed during a meeting with the Minister of Sports and Physical Education, officials of FECAFOOT, the players and their technical Team yesterday Monday November 14th 2016.
Tombi A Roko Sidiki, President of the Cameroon Football Federation FECAFOOT told the girls that they will each pocket the sum of 24 475 000 F CFA(Twenty Four Million Four Hundred and Seventy Five Thousand Francs) if they win the CUP. This money comprises their participation and qualification allowances plus other targeted allowances.
Each player will receive 500 000 F CFA(Five Hundred Thousand Francs) for participation allowance and

4000 000 F CFA

(Four Million Francs) for qualification allowance. These two allowances will be paid today.

>
Furthermore, if they qualify for the second round, each player will receive another

5 000 000 FCFA

(Five Million Francs),

8 000 000 F CFA

(Eight Million Francs) each, if they get to the finals, and

10 000 000 F CFA

(Ten Million Francs) each, if they Champion the tournament, making a total of

27 500 000 F CFA

(Twenty Seven Million, Five Hundred Thousand Francs)per players tax inclusive.
According to the financial laws an 11% tax will be deducted from each envelop, to give a total of

24 475 000 F CFA

(Twenty Four Million, Four Hundred and Seventy Five Thousand Francs) for each lady to take home.
Meanwhile the Head Coach of the ladies Carl Enow Ngachu will have a double portion of the above amount, which is

48 950 000 F CFA

(Forty Eight Million, Nine Hundred and Fifty Thousand Francs).
Communicating this information publicly is the government's own way to avoid protests for allowances that has always been an issue before and after international competitions.
"Oya, Coach Enow Ngachu, take the girls to the road of success, for we are sure none of you will want to loss this a dime from this chunk of cash".