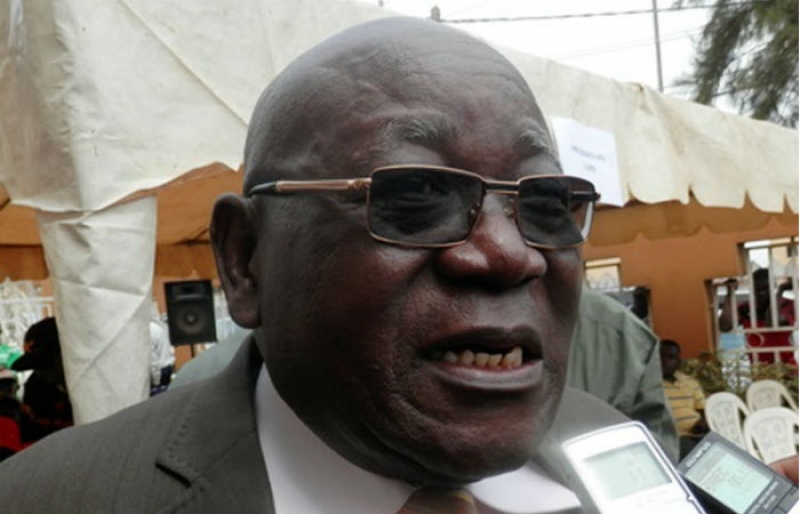 Emile Onambele Zibi, Patriarch of Mfoundi
An open letter addressed to the President Paul Biya by
Mvog-Betsi's
Emile Onambele Zibi
on behalf of all the Patriarchs and Elders of Mfoundi, accusing the Head of State of GENOCIDE is trending the social media, and has diverted people's attention, by opening eyes and mouths wide as in wow!.
Apparently, this letter would have remained in-between the initiators, the writer and the Head of State, but the Secretary of Patriarch Febe unconsciously or better still intentionally released it to the press.
The Entire Letter as published by "Le Messager Newspaper" of Oct. 5, is in French, but I have used the Thatcher in me to translate it for better comprehension. Isn't Cameroon Bilingual?. Hope you manage to understand.
Your Excellency,
Unique circumstances have pushed us the Beti Patriarchs to address you this correspondence that many of us consider as one of the last. Indeed, and contrary to the obligations tied to your functions, you have become absent and inaccessible. Confronted with this Your Excellency, we and our people want you to know the following:
"Things we overlooked long ago with simplicity have clearly become a genocide. Our people are dispersed and diluted. Our lands are being seized and resold. Soon we will have no base, no culture, no village.We deserve more than this. To us, it is a battle of survival
We are absent from all the decision making circles that concerns the present and future of the country, even though we are the major actors of our history.
The CPDM party which is in power in which you pulled us all into, no longer belong to us. Besides, we have always occupied junior positions.
Today your Secretary General Jean Nkuete has created a different CPDM, close to the political ambition of his people, and controlled by the Bamiliekes.
The Senate President Mr. Niat no longer hides his origin, all important gifts, best hospitals and universities are in his region.
Your excellency, we therefore wish to inform you that we are leaving the CPDM for another party closed to our aspirations, and who considers us as full citizens.
Th 20th May Boulevard is in the place of the history of the Beti people of Mfoundi. Do you know that, that water course which gives its name to the Division is a mythical and mystical river? Shockingly enough, every 20th May celebration, the Beti dignitaries and elders of Mfoundi are never among the list of the Head of State's invitees. A feast in our place without us.
You always prefer other compatriots elsewhere. Will you be happy if you are excluded from ceremonies in your Division of origin and in your village where you have just been appointed an Elder or Notable?
Mfoundi and the people of the Great Center and East are poor parents of your 35 years of reign. Unjustly, these people reduced to beggars, lack every thing: water, electricity, great industrial structures, road infrastructures etc.. contrary to the West and South Region for example.
Your Excellency, we have always given you our votes through bargaining. Hence it won't be so. This poor bargain will have to stop, because after you, another power will make us pay for our blind and innocent trust in you.
Your Excellency, your power is becoming tribal and even familial, because all the positions of authorities and money goes more and more to the Bulus and the Nanga-Ebokos, whose votes for you have never ever been enough to have you relected through out the different Presidential elections.
Whenever Mfoundi and the East have been called upon, it is only when things seems tough and your position is threatened. Without Mfoundi for example, the April 6 2014 push, the ghost towns, Bakassi, your different 'victories' at the dawn of multipartism, and even the fight against Boko Haram would have been disastrous.
Your Excellency, the people of Mfoundi through the authorization of the Council of Elders are writing to you today to tell you that WE ARE DONE with you.
Henceforth between you and us, things will never be the same", if once again, you ignore and simplify us with your usual silence.
Done in Yaounde, the 9th September 2016
For the Association of Patriarch and Elders of Mfoundi
ONAMBELE ZIDI Emile
President of of Patriarchs and the Indigenes of Mfoundi"".
"Yes oh Thatcherers and Thatcheresses, this is the straw that breaks the carmel back. Abi weti you talk?"
Les circonstances uniques nous obligent, nous patriarches Beti, à vous adresser cette correspondance que beaucoup d'entre nous considèrent comme une des dernières. En effet, et contrairement aux obligations liées à vos fonctions, vous êtes devenu d'abord absent, puis définitivement inaccessible. Face à cela, Excellence nous et nos peuples tenons à vous faire savoir ce qui suit:
Ce qui était considéré à l'époque comme une simple vue de l'esprit apparaît clairement comme un génocide. Nos peuples sont dispersés et dilués. Nos terres sont uniquement confisquées et revendues. Bientôt nous serons sans repaire, sans culture, sans village. Nous attendons plus nous laisser faire. Pour nous il s'agit de lutter pour notre survie.
Nous sommes absents de tous les cercles de décision qui engagent le présent et l'avenir du pays, alors que nous sommes pour l'essentiel des principaux acteurs de notre histoire.
Le RDPC, le parti au pouvoir dans lequel vous nous avez entrainés, ne vous appartient plus. D'ailleurs, nous y avons toujours occupé des positions subalternes. Aujourd'hui, votre Secrétaire général, Jean Nkuete a créé un autre RDPC, plus proche des ambitions politiques des siens, et contrôlé par ceux de sa tribu, les Bamiléké.
Le Président du Sénat, Monsieur Niat, lui, ne cache plus ses origines (très importants dons de tous genres aux hôpitaux et aux Universités de sa seule région) vient de la même Région.
Nous vous annonçons notre départ du RDPC-là pour autres formations politiques plus proches de nos aspirations, et qui nous considèrent comme des citoyens à part entière.
La place des fêtes du 20 mai se trouve dans un lieu d'histoire pour nous les Beti, peuples du Mfoundi. Savez-vous que ce cours d'eau qui donne son nom au Département est un fleuve mythique et mystique ? En tout cas, à chaque célébration de la fête nationale, les dignitaires Beti et les notables du Mfoundi ne figurent jamais parmi les invités du Chef de l'Etat. La fête chez nous, sans nous, en somme. Votre préférence va toujours à nos compatriotes d'ailleurs. Êtes-vous heureux d'être ainsi exclu des cérémonies dans votre Département d'origine, et dans votre village où vous venez enfin d'être nommé notable ?
Le Mfoundi et les peuples du Grand Centre et de l'Est sont les parents pauvres de vos trente-cinq ans de règne. Injustement, ces peuples réduits à la mendicité manquent de tout: l'eau, l'électricité, les grandes structures industrielles, les infrastructures routières, etc., contrairement aux Régions de l'Ouest et du Sud par exemple.
Nous vous avons toujours donné nos suffrages dans les marchandages. Cela ne sera plus le cas. Ce marché de dupe doit s'arrêter. Car, après vous, un autre pouvoir nous fera payer notre fidélité naïve et aveugle à votre endroit.
Votre pouvoir est en train de devenir tribal et même familial, puisque tous les postes de pouvoirs et d'argent vont de plus en plus chez les Bulu et les Nanga-Eboko, dont seuls les suffrages n'ont jamais suffi pour vos réélections successives aux différentes consultations électorales. Chaque fois que le Mfoundi et l'Est ont été sollicités, c'était pendant les épreuves qui ont ébranlé votre pouvoir et qui pouvaient vous emporter. Sans le Mfoundi par exemple, le push du 6 avril 1984, les villes mortes, Bakassi, vos «différentes victoires» au lendemain du multipartisme, et même la lutte contre Boko Haram auraient connu un autre destin.
Monsieur le Président, vous le savez, puisque vous avez très officiellement affirmé que «tant que Yaoundé respire, le Cameroun vit».
Les peuples du Mfoundi, et par la voix autorisée du Conseil des patriarches vous écrivent aujourd'hui pour vous dire leur indignation et leur ras-le-bol.
Désormais entre vous et nous, rien ne sera plus comme avant, si une fois de plus vous restez silencieux et méprisant comme à votre habitude.
Fait à Yaoundé le 9 septembre 2016
Pour l'association des patriarches et notables du Mfoundi
ONAMBELE ZIDI Emile
Président des Patriarches Autochtones du Mfoundi