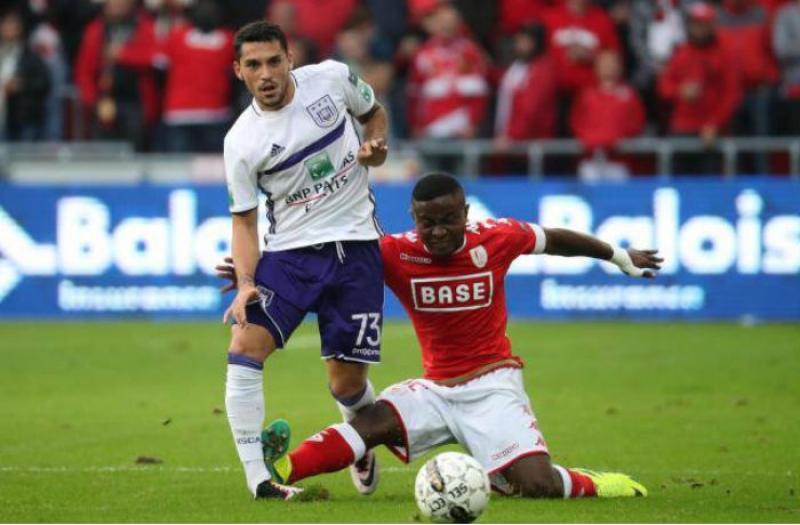 The action that got Collins Fai into hot waters
The Dispute Committee fine's Collins Fai the sum of 800 Euros an equivalent of 480.000 F CFA and suspends him as well
The Dispute Committee of the Belgian Football Union have suspended Cameroonian Collins Fai from two matches, and asked him to equally pay the sum of 800 Euros for playing rough on Nicolae Stanciu.
Televised images by the Review Commision accused the 24 years old Defense man of haven played rough during the 2nd Oct. match between Classico Standard and Anderlecht, that saw a 0-1 defeat in favour of Anderlecht.
During the match, Referee Sebastien Delferiere warned Fai with a Yellow Card, but after the match, during the televised image review session, it was discovered according to reports that Fai intentionally rough tackled his opponent.
A complain against his action was sent to the Dispute Committee of the Belgian Football Union, which decided yesterday Oct. 11 2016, after a hearing session, that Collins Fai was guilty as charged, and punished him with a fine of 800 Euros, plus a two days suspension from his team's activities.
This means that Collins Fai will miss his Team's upcoming trip to Courtrai on Oct. 15, and also the reception of Waasland-Beveren on Oct. 23, 2016 respectively.
His Club can however appeal the decision, but will they do it?