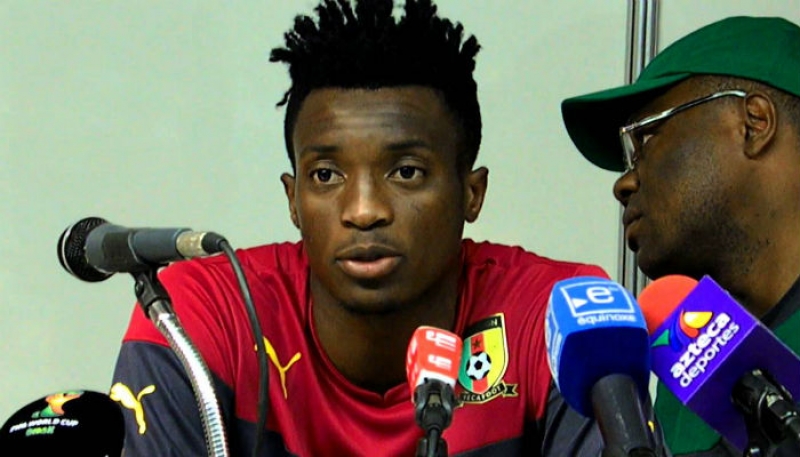 Benjamin Moukandjo
After a 1-1 draw in a friendly match with Olympique de Marseille this morning, the Indomitable Lions are really not confident that the Algerian Team will bow for them come Sunday Oct. 9.
Well, Benjamin Moukandjo thinks the match will be tough.
"We respect the Algerian Team that Africans respects as well, but respect does not mean fear of the adversary. So we respect the Algerian Team, but we are not afraid of them". Moukandjo expressed in an interview.
"You know when we as professionals are used to playing in populated stadiums, we are not worried about the crowd. I think it will not handicap us. We are Lions, we animate stadiums like the one in Bilda where we will be playing. It is true that the public will be supporting their team, but that will only encourage us to do what the coach will ask us to do. But then, I hope it will be a great match because it involves great football nations". He added.
"We are afraid of the Algerian Attackers, but we are also solid behind. After everything their attack is made up of players with great qualities, evolving in the best champion clubs around the world. We too have values. Cameroon is a collective team of individuals. We are 23 Lions in number going to Algeria to TRY to win this match". A skeptical Moukandjo confirmed his fears.
"Hugo Bross as our Coach is one of the advantages we have before the match. We have a coach who knows so much about the Algerian Team". He bragged conclusively.
This match is a decisive one, as whoever wins, will be on the advantage side over the other.
"

These guys are already discouraging with fear. What about you Thatcherers and Thatcheresses

?.