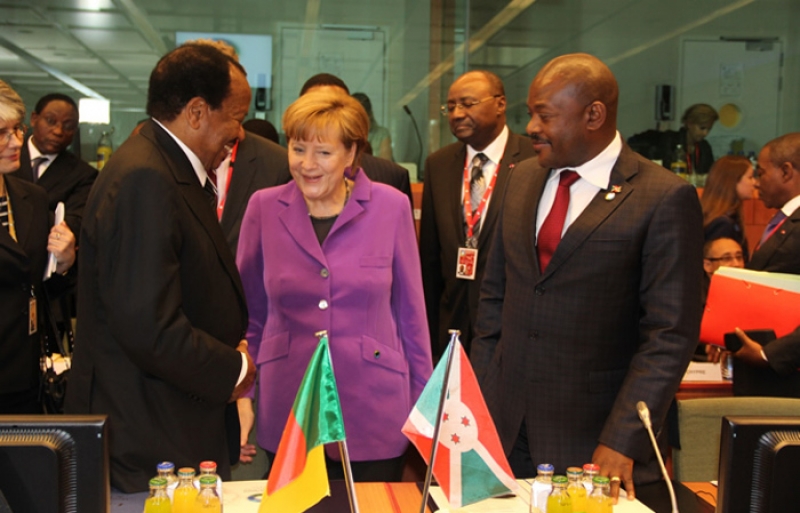 President Biya and Angela Merkel
German Chancellor Angela Merkel is Touring the African Continent to talk about Terrorism and Illegal immigration, Africa's ongoing worst nightmares
Angela Merkel has begun a three day Tour in the African Continent this day Oct. 9 2016, with her first stopping point in Bamako, Capital city of Mali, where she met with the Malian Head of State Ibrahim Boubacar Keita and his Top Authorities, to discuss on terrorism and illegal immigration, plaguing the continent.
From Mali, Merkel will directly move to Niger, another Boko Haram targeted country, and will be discussing the same issue on the Tour Agenda with the Top Authorities of that country.
Angela Merkel ends her African Tour with Ethiopia where the African Union will be inaugurating the new Peace and Security Building in Addis Ababa. This new building named after late Tanzanian President Juluis Nyerere was constructed with the financial aid of the German Government
Upon her return to Berlin, Angela Merkel will be receiving Tchadian Idriss Deby Itno and Nigerian Muhammadu Buhari, President's of two top African Boko Haram affected countries.
"

Why did she avoid Cameroon, which is one country that Boko Haram has mercilessly dealt with? Is it because of our Absentee Landlord?. Just thinking aloud

".