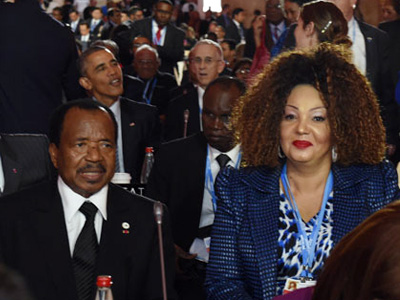 Head of State Paul Biya & Wife Chantal Biya
The absence of the Head of State and wife has been a call for concern, as all Cameroonians keep wandering if their leader has surrendered powers to an unknown ruler.
Since he left the country on Sept. 16th on invitation to attend the UN General Assembly, there are no signs of his return, eventhough he is working in abstentia, appointing SDOs and firing others, sending his Ministers to represent him where he was supposed to be in person.
The rest of what we hear about him is the disgrace CODE is giving him wherever he goes, the numerous memorandums by different traditional rulers airing their own selfish grievances, the fights in the CPDM, where even top militants themselves are not sure of what is happening to the party etc..
"L'Epevier Newspaper" of today Oct. 17 got curious on the subject as well, but outlined that the First Lady had requested her husband to remove some of his Officials in place, and replace them with her own people, which became a bone of contention for the couple.
This unfounded story can however have some grounds, because the Head of State's long stay out of the country with eleven of his most trusted personnel, is an indication that they are working out something that will only be unfolded upon their arrival.
Whatever it is, one thing is certain. President Biya has had it up to the throat, and now that things are hot all round for him, he will rather prefer to do his best to kick whoever or whatever obstacle that has had a hand in his present crisis.