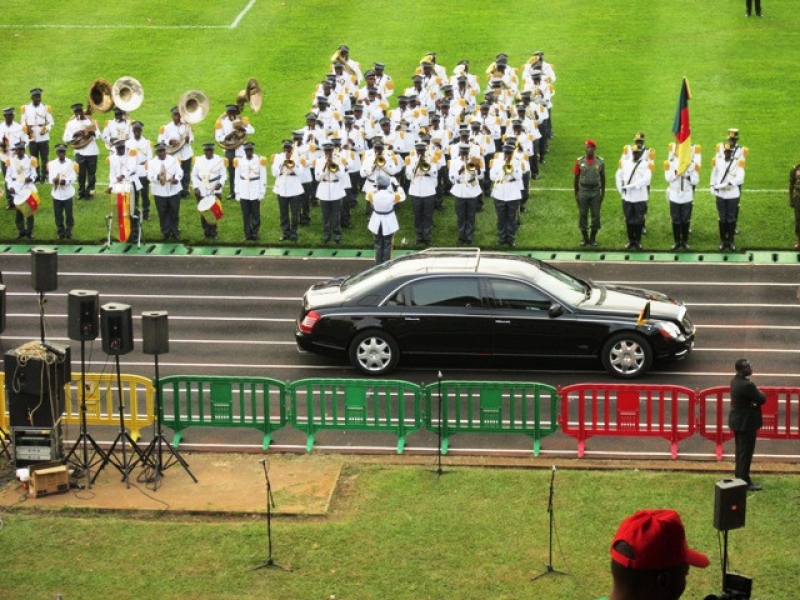 Presdient Biya's Limousine arriving the stadium this afternoon
After the 20th May incident where the Head of State's Limousine refused to start, President Biya has created another international news headline today Oct. 30th 2016 at the Amadou Ahidjo's Stadium, where he was to preside the closing ceremony of the 2016 Cameroon Sporting season.
The MC of the event announced that all present should stand up to observe a minute of silence in memory of those who lost their lives in the Eseka train accident of Oct. 21st.
Everyone including President Biya stood up. Within 30 seconds, Biya tried to sit down, but when he looked left and right he saw Nyiat the Senate President and Cavaye The National Assembly President deep in meditation with closed eyes, he managed for another 10 seconds, but in the

40th second

, Biya couldn't stand anymore, so he sat down in the eyes of the whole world, while every other person around him was still standing in deep meditation.
With his absence at the train crash site on Oct. 24th 2016 that he decreed a national mourning day, Biya should have at least humbled himself this afternoon in the eyes of Cameroonians and the world, by respecting the one minute silence in honour of the deceased, but alas, he disappointed us all again.
Is he too sick to stand up for one minute or is it old age?