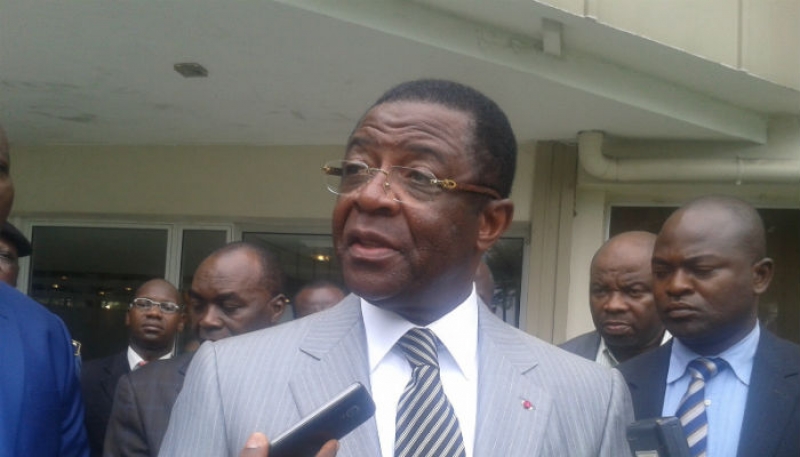 Minister Edgar Alain Mebe Ngo
After declaring in the 1. p.m news over CRTV Radio today that there was no train accident, Transport Minister Edgar Alain Mebe Ngo' took a Military helicopter to the disaster site with his close collaborators, and made contradictory statements.
"I think we should wait. But what is irrefutable as of now is the fact that this derailment has caused huge damages, both human and material. But as for now, I cannot give you the exact number". Minister Mebe Ngo declared before leaving the site.
"While the derailed train was still at the Yaounde Train Station, the first rumors were already spreading that the stationed train had derailed. This rumors amplified in the social media, with the image of the 2009 train that derailed around the Yaounde General Hospital trending. After the crisis meeting that I presided before I was called to talk about the issue on the 1 p.m news, I thought it would be essential for me to deny this information because it was likely to create doubt and confusion in people's mind. At the same time the government was taking measures to remedy the the landslide incident that occurred this morning on the Yaounde Douala highway. The real derailment likely occurred just before Eseka. This is what happened. There was a false alarm of derailment while the train was still stationed in Yaounde, and unfortunately it coincided with the circumstances of a real derailment later" The Minister lied to justify his earlier denial of the fact that a trained had derailed.
Wow! my fellow country men and women, this is a Minister, who is supposed to shed light on situations, but who instead goes controversial for some controversial reasons known only to controversial people.
Well such is what the Cameroon Government is made of.
How can the Minister say rumors were all over the place that the train had derailed when it was still stationed? What is he insinuating? That witches and wizards pushed the train to confirm the rumors?