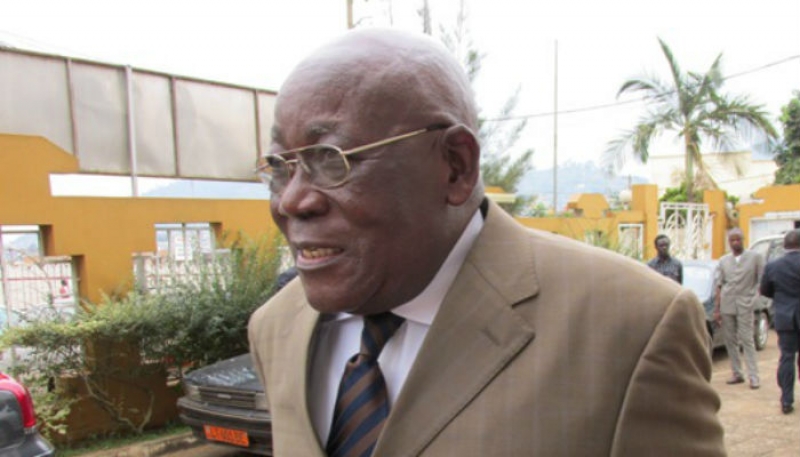 Elder Emile Onambele Zibi
The drama on

the Mfoundi/Beti Memorandum

seems to be overshadowing every other happenings in the country now as Biya's own personal people are each beginning to put on shields against upcoming bullets of his anger, concerning

the trending Memorandum

.
Yesterday, we reported on how Philippe Mbarga Mboa Minister In-charge of Missions at the Presidency of the Republic, reacted during the Assembly of the Mfoundi Elites that took place at the Yaounde City Council Hall on Tuesday Oct. 18, 2016.
Minister Mbarga Mboa said "

Mfoundi People said Yes

to Paul Biya, and remain loyal to him", and was also in support of t

he Suspension of Emile Onambele Zibi

, main spokesman for the Beti people, who is said to have written the said memorandum on behalf of all the Mfoundi people, and in accordance with their Traditional Rulers and patriarchs.
However, since his suspension was announced during the Tuesday's Assembly, Emile Onambele Zibi has remained silent, but reacted to Minister Mbarga Mboa's statement when he said '

Mfoundi will not accept disorder and

xenophobia'
Onambele said Minister Mbarga who was presiding the meeting was neither an elite, patriarch, traditional ruler nor anything significant in the Mfoundi Division.
"
What capacity has Mbarga Mboa to talk on behalf of the natives of the Division?" Onambele questioned. "And among those who took the decision to suspend me, there are many who are from Soa in the Mefou and Afamba Division. Why should they gather to talk about Mfoundi? It is disorder". He added
"I am a patriarch. An authority can not be
m
orally
sanctioned
in an Urban Council Hall. We step aside because we have our principles. This is to say that those who organied Tuesday's meeting are not patriarchs of Mfoundi. They are agitating in the respective of an upcoming Government Cabinet Reshufflement
".
Onambele confidently
expressed.
Emile Onambele Zibi who is known for his openness is planning to organize a press conference, where he will properly address the issue of the Memorandum. "We have never written a Memorandum to the Head of State. What is circulating in the media is not from us. But we had sent a letter to the President of the Republic, and it was not the first time we had written to him". Onambele affirmed.
To think of the consequences of all these saga, one will begin to nurse fear like Mama Fouda and the rest, who are not sure of how all these drama looks at the tail end.
However they try to sabotage the truth, we all know that the elites of Mfoundi met, before

the said Memorandum

went viral, and so the issue here is that the Public was not supposed to have gotten hold of the contents period.