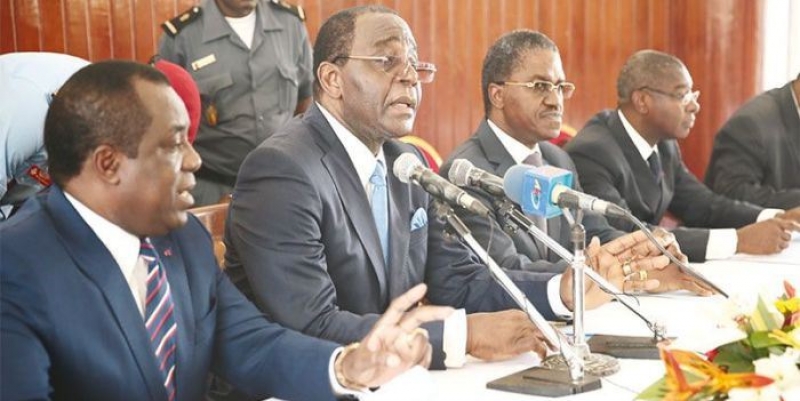 Philippe Mbarga Mboa in the Center during yesterday's meeting
During yesterday's meetings at the Yaounde City Council Hall where Mfoundi elites gathered to

wash their hands off

the so called Mfoundi/Beti Memorandum in which the chiefs and elders of this division accused President Biya of genocide and threatened to pull out from his party should he refuse to give them a listening ear, the main spokesman for this division Emile Onambele Zibi was sidelined with a 12 months suspension off activities of the the Region.
"The Mfoundi Division stood up in numbers to analyse what is happening inside and we think so far that the atmosphere is pleasant. We want to state here that Mfoundi will not accept disorder and xenophobia " declared Philippe Mbarga Mboa, Minister in Charge of Missions at the Presidency of the Republic. "Mfoundi has said yes to Paul Biya, and we remain faithful to him. We the people of Mfoundi are well brought up, and we don't talk anyhow". He concluded.
Philippe Mbarga Mboa was once the Regional Director of The International Bank of West African States, before becoming the Commercial Director of the same Bank from 1979-1993. He became FECAFOOT's Treasurer from 1994 - 1996 and was appointed Minister Incharge of Missions at the Presidency of the Republic from August 2002 - Sept 2004.
He was appointed Minister of Sports and Physical Education from Dec 2004 - December 2007, where he got reappointed on October 2, 2015 as the Minister Delegate at the Presidency in-charge of relations with the Assemblies. Philippe Mbarga Mboa is one of the sons of Mfoundi. swimming in Biya's Ocean of Abundance, and who won't want anything or anybody to jeopardize his chances.
So how did the memorandum come about?, because in actual fact, there was a meeting to that effect.