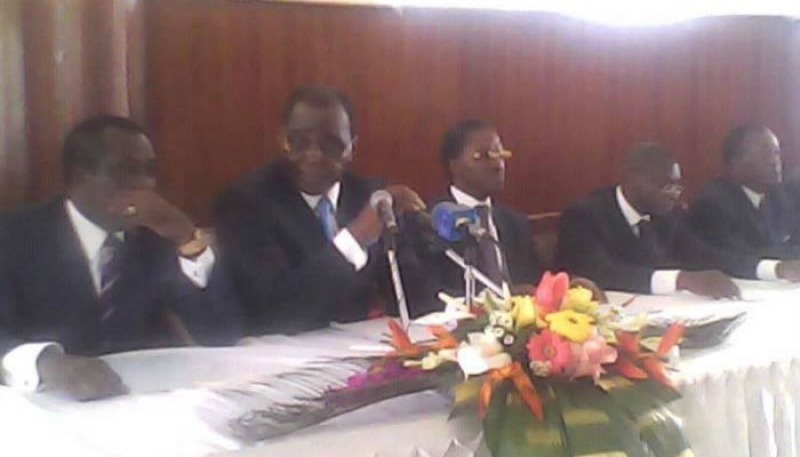 Mfoundi Elites during the Assembly of 18.10.2016
Well things seem to have turned upside down, as the same initiators of this Memorandum now fear for their safety, and have all joined to nail Emile Onambele Zibi their spokesman, who was swift to have used his camaraderie with the press to release the memorandum to the public, even before it got to Etoudi.
Gathered in Yaounde since morning at the Yaounde City Council Hall, Elders and top personalities of Mfoundi discussed on how to save their faces from Biya's rage when he returns to the country if only he decides to return.
In it's 1 p.m radio news cast this Tuesday Oct. 18, CRTV announced that this assembly of the Beti people is to denounce their involvement in the so called Mfoundi Memorandum, and dissociate themselves with Onambele Zibi the presumed author and writer of the said memorandum.
At the end of their gathering, Emile Onambele Zibi was suspended for one year. Meaning he will not participate in any activity that concerns his region of origin for a twelve month period.
Meanwhile during the meeting, the Beti elites saluted the concern of Paul Biya on their sons and daughters, who are top members of the Biya's government like Minister Andre Mama Fouda of Public Health, Pierre Ismael Bidoung Mpkatt a
nd the rest
.
At the end of the meeting, Four Resolutions were taken;
They totally condemned all maneuvers of destabilization, exclusion and division that might question their hospitality, openness, willingness to leave together and tolerance which characterizes the Mfoundi natives, and their total adherence to the ideals of peace and national unity advocated by the President of the Republic

.

Formally rejects all acts wanting to jeopardize the harmonious relationship that the joint Mfoundi families have maintained with the Head of State for many years now.
Reaffirm their unequivocal, unconditional support without reserve to His Excellency Paul Biya, President of the Republic, Head of State and Head of the Arm Forces.
Implore God Almighty to continue to give Paul Biya wisdom, good health and long life necessary to change Cameroon to a prosperous nation
Top Government Officials present at the meeting were;

André Mama Fouda

,

Philippe Mbarga Mboa

,

Magloire Séraphin Fouda

,

Laurent Serge Etoundi Ngoa

,

Augustin Thierry Edzoa, Luc Assamba.
Well these men are really hypocrites. After sitting down to table their grievances together without measuring the consequences, today for fear of the unknown, they nail poor Onambele Zibi, who is their spokes person.
Well Pa Onambele, that serves you right as well, as you are just paying the price of all what you stole from the people to give to Mr. Biya.