Saint of the Day for Sunday, February 28th, 2016 - St. Hilary, Pope - St. Caerealis - St. Oswald - St. Romanus of Condat - St. Ruellinus
St. Hilary, Pope Pope from 461-468 and guardian of Church unity. He was born in Sardinia, Italy, and was a papal  legate to the Robber ...
http://www.henrietteslounge.com/2016/02/saint-of-day-for-sunday-february-28th.html
St. Hilary, Pope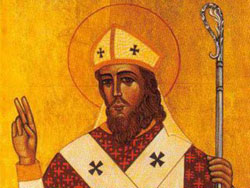 Pope from 461-468 and guardian of Church unity. He was born in Sardinia, Italy, and was a papal
legate
to the Robber Council of
Ephesus
in 449, barely escaping with his
life
from this affair. Hilary was used by Pope
St. Leo
I the Great on many assignments. When Leo died, Hilary was elected pope and consecrated on November 19,461. He worked diligently to strengthen the Church in
France
and Spain, calling councils in 462 and 465. Hilary also rebuilt many Roman churches and erected the
chapel
of
St. John
Lateran. He also publicly rebuked Emperor
Anthemius
in St. Peter's for supporting the Macedonian
heresy
and sent a
decree
to the Eastern
bishops
validating the decisions of the General Councils of Nicaea, Ephesus, and Chalcedon. Hilary consolidated the Church in Sandi, Africa, and Gaul. He died in
Rome
on February 28.
St. Oswald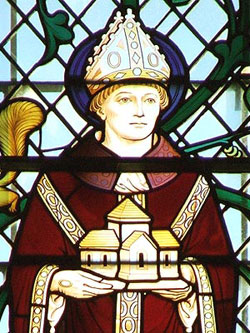 A Dane by birth,
St. Oswald
studied in the household of his uncle,
Archbishop
Odo of Fleury, France, where he was ordained. Returning to England in 959, he was later made
Bishop
of Worcester (962), by St. Dunstan. In this office, he worked hard to eliminate abuses and built many monasteries, including the famous
abbey
of Ramsey in Huntingdonshire. In 972,
St. Oswald
became
Archbishop
of York, although he also retained the See of Worcester in order to promote his monastic reforms which were under attack by Elfhere, King of Mercia. In addition to striving to improve the morals of his clergy, this holy
man
also labored to increase their theological
knowledge
- he himself wrote two treatises and several synodal decrees.
St. Oswald
was associated for most of his public
life
with
St. Dunstan
and
St. Ethelwold
and when he died in 992 popular veneration joined his name to theirs. He has been revered ever since as one of the three saints who revived English monasticism.
St. Romanus of Condat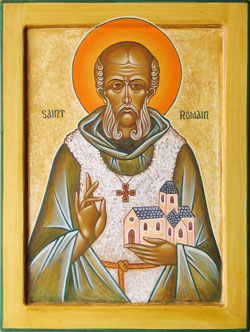 Abbot of Gallo Roman descent, he adopted the
life
of a hermit in the Jura Mountains, France, at age thirty five and was joined by his brother, St. Lupicinus, and many other disciples. The two brothers thus found it necessary to establish two monasteries, at Condat and Leuconne, and a
convent
at La Beaume which was governed by their sister. Romanus was famed for his healing of two lepers at Saint Maurice. He died on February 28 and was buried at La Beaume.